What does MLS mean?
Posted by Jon Karlen on Friday, October 27, 2017 at 4:39 PM
By Jon Karlen / October 27, 2017
Comment
If you ask the question "What does MLS mean?", you are likely to get a variety of answers.
Some sports fans will immediately respond with "Major League Soccer".
If you ask someone that is looking to buy a home, they'll most likely think of MLS as meaning Multiple Listing Service.
But if you ask Sarasota real estate agent, Marc Rasmussen, he's likely to tell you MLS means one giant headache. Why, you may ask?
Well, lets go back a few years to the beginning of the story……
Back in March 2002, a real estate trade association publication wrote an article offering advice about good website name selection. Included in the article was the recommendation that using MLS as part of your name was an excellent tip for those wanting a good domain name.
That brings us to Marc. In 2003, Marc was trying to register a website name for his real estate business. Domain names that he tried included his Area real estate, homes, homes for sale, etc – all of which had been taken by others.
So, Marc followed the guidance of his real estate trade publication, and registered TheSarasotaMLS as his website name. Not a particularly great website name by any stretch – but at least he listened to the good advice of his trade publication, and made due with what he could get.
Marc then went on to spend tens of thousands of dollars on the building, and branding of the website to gain exposure on the internet and to get it in the mind of those within his own local community that he was the expert for Sarasota Homes.
Marc worked hard to increase his brand recognition for his website. Thousands of dollars were spent on print advertising, and in internet efforts to gain exposure and recognition for his real estate business.
This continued on for several years – and Marc continued to gain more and more prominence. People "knew" who he, and his website, were.
Then out of the blue last year, the national real estate trade association came to the conclusion that they needed to protect the term "MLS".
Others joined in and agreed with the national organization with what essentially amounts to affirmations of:
Yea, we do – 'cause customers can be fooled into thinking that they are searching the "real" MLS – when they really aren't.
But, there is a flaw with their line of thought. Since the national real estate trade association can only implement rules to affect its own members, it can't control what NON-MEMBERs do.
(Which means, only NON-MEMBERS would be able to use the term MLS in a website domain. What?!?! How is that helping the consumer? Instead of getting consumers to real estate agents that are members of the trade organization, they'd rather feed them to the sharks by sending them to NON-members??)
Regardless, after a relatively brief period of time, a new policy was quickly approved and implemented that essentially states that transparency is now required within real estate websites such that consumers will be able to recognize that they aren't searching the "real" MLS – and that they are just on an agent's or broker's website.
So, now that you are caught up – that brings us back to Marc….
Marc following what was happening with the new rule implementation, wanted to make sure he was in compliance and not have to deal with getting hassled for any inference that he was in violation or trying to pose as the "real" MLS, so he put a disclaimer on his site in large bold print on his site saying:
"This is not the Sarasota Multiple Listing Service (MLS)."
Marc should be good to go then, right? Wrong.
Marc was hit with an ethics violation, and brought up on charges by his local trade organization for violation of the new rule. He now had to go before his peers to plead his case.
After a lot of effort, fortunately, Marc was eventually cleared of any ethics violation.
Yay Marc!
And they all lived happily every after, right? But, the story doesn't end there.
Not satisfied with the ethics violation charge that they brought (and lost) against Marc within the local organization; they then filed a complaint with ICANN, the international organization responsible for domain name registration.
Geeze. Talk about jumping through hoops: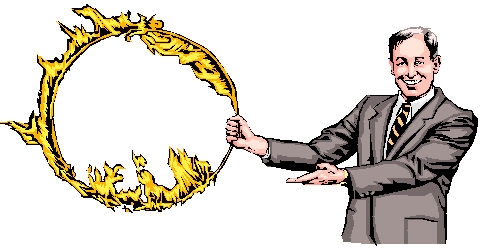 Marc had to go and plead his case again. Annoying, but it should be a slam dunk, right? I mean, after all, he did clear his name on the earlier case.
Yet, in a dumbfounding move, ICANN declared that Marc Rasmussen would have to transfer ownership of the domain over to the local real estate trade organization.
Yes, you heard correctly.
Even though other organizations & persons currently use the term MLS, AND an industry trade magazine recommended the use of the term MLS in his domain name, AND the fact that Marc had been using the site for years prior to the implementation of this new rule, AND Marc clearly stated on his own site that he was NOT the "real MLS" – Marc has now been ordered, in a grave miscarriage of justice in my opinion, to transfer ownership of the website to the local trade organization.
Are you kidding me?!!?!?He did exactly what the real estate trade organization publication recommended, and when rules changed, he put disclaimers to the point of being a distraction for his customers on his website that he is NOT the "real" MLS – and he still has to give it up?
Lost are the years of branding & familiarity within the local community.
Lost are the tens of thousands of dollars that he spent on advertising and promotion of the website.
It's really a tragedy.
In my opinion, at the very least Marc should be allowed to keep the domain name, and redirect it to a new website (so that he would still maintain his search engine ranking and branding as he transitioned from the old name, to the new website name).He now has to build a new website name presence, and brand recognition with customers from scratch.
So, now the fight goes on for Marc. Hopefully a positive resolution will come of this. We wish him the best.
Keep fighting the good fight, Marc. If you desire to search for homes for sale and <a href="/" title="Louisville MLS Listings">Louisville MLS listings</a> we offer a variety of tools and search features to make finding your new home fast.